Bus transfers for cruise ships ​
Throughout the year, Málaga is a constant departure, arrival and stopover point to a myriad of cruise ships. Today The Port of Málaga offers a modern terminal for cruise ships, boasting a wide range of facilities and services for the cruiser.   
As a result, Autocares Mateos cruise transfer service is born out of the necessity to satisfy de requirements of all kinds of cruise passengers who set their foot in The Port of Málaga, from either specialized travel agencies or solo passengers, in small or large groups.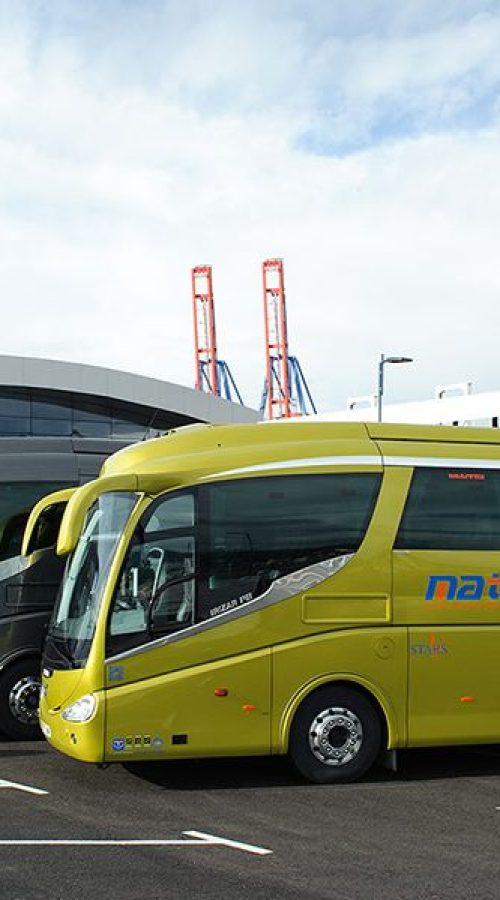 Our coach company in Málaga offers a number of different transfer tailor-made services to cover entirely the needs of all of their passengers, offering flexibility, quick answers, professionalism and individual attention in cruise-to-hotel, as well as guided tours in Málaga city and outside… always with the best possible value-for-money service in mind.
We have a fully equipped fleet of coaches, minibuses and microcoaches for your easiness of transport to wherever your destination may be, as well as the possibility of a coach or microbus adapted to people with reduced mobility needs.
Get in touch with Autocares Mateos if you plan to visit Málaga and its province while your cruise is anchored and time is short. Take on our coach or microbus rental service in Málaga to enjoy a guided tour from the port to the most interesting places. Our service guide visit in Málaga will save you time in the city with our expert guides who will take care of dropping you back at the port well before cruise departure time is due.  
Our fleet adapts to all needs, we have coaches with 59 and 55 seats, and for smaller groups, we have microbuses and minibuses with 35, 30, 20 and 15 seats.
We offer our service for all types of transfers, buses for school transport, excursions, national and international circuits, coaches for weddings, Shuttle, transfers and transport service for VIP groups.
Our commitment to quality is firm. At Autocares Mateos, we take care of even the smallest detail. To provide the best service to our customers, we have a qualified team of professional drivers, and our coaches and minibuses are equipped with the best features on the market.